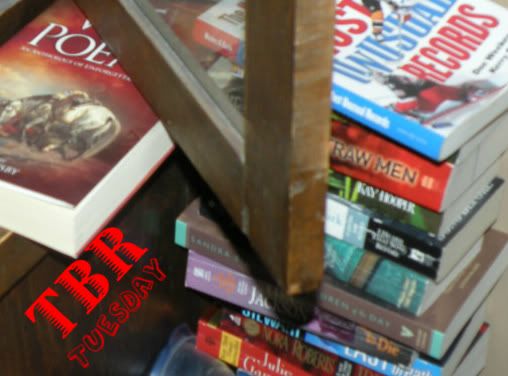 For awhile now, I have been thinking that I would like to share some of my TBR list from time to time and also to see what's on yours. If you feel the same, join me in a meme - TBR Tuesdays! How?
Create a post telling us about one or two of the books on your TBR list

Link back to this post

Leave a comment with the link to your post so we can all check it out
I hope you will join me in this. It should be fun to see what everyone has waiting in the wings.
A few years ago, I discovered Timothy Findley. I love his writing style and his skewed take on things. He is just fun to read - and as an added plus, he's Canadian. High on my TBR list is one of his: Not Wanted on the Voyage first published in 1984.
Here's the blurb from Goodreads:
Published in 1984, Not Wanted on the Voyage is one of Timothy Findley's most imaginative and compelling literary fictions. Findley turns to one of our essential myths: the biblical story of the great Flood, but he doesn't so much retell it as take our common knowledge of the Old Testament tale and give it an extraordinary twist. Here we have Dr. Noah Noyes, diabolical conjuror and dictatorial leader of his helpless little boat-bound band, sure of his total superiority as man, husband, and father, imposing his view of the ways of God on his wife and family. The kind and generous Mrs. Noyes stands in direct contrast to her hard-hearted husband, and then there are the Noyes children: strongman Japeth, every inch his father's son, with his delicate wife, Emma; and the sensitive Ham, every inch his mother's, with his mysterious wife, Lucy (a.k.a. Lucifer, who, having escaped from Hell, has decided to align himself with mankind). Findley, a great lover of cats, also gives us the crotchety Mottyl, making his way through his ninth and final life. Not Wanted on the Voyage is poetic and passionate and bursting with a wide-eyed inventiveness, at once a stunningly contemporary attempt at mythmaking, a grand novel of the power of the imagination, and a thoroughly good read. --Jeffrey Canton
Now, I take issue with calling the biblical account of the flood a 'myth' but this story bears no real resemblance to the biblical account, anyway. I'm willing to read it as a fun redo - kind of like the two Snow White movies coming out this summer. Not Wanted on the Voyage sounds like an imaginative, over the top, just enjoy it for what it is, kind of book.
Here's the other cover. I'm not sure which I like better.
And here's a taste from page 9:
The visitor could only be one Being. The pink and ruby dove at their feet was plain as an autograph written in the dust - one of the ten thousand names of God. Sometime within the next fourty-eight hours, Yaweh Himself would descend from His carriage right on this very spot.

"Oh dear," said Mrs. Noyes - and looked around the yard, distraught, as if she wished there was time to rearrange the trees.
All this talk has made me really, really want to read this book now! Maybe I'll just have to hit the library.